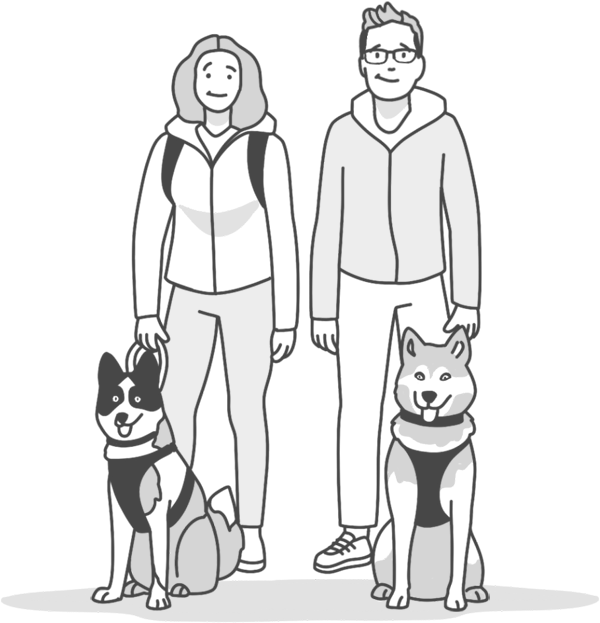 The pups
Harley
The OG Visser pup.
Harley is a Pomsky (that's a Pomeranian x Husky — don't ask how) and is Karolina's favourite.
She's a Covid puppy. We literally picked her up on the day that lockdown started, sorry Boris, but your messaging was shit. Was picking up a puppy essential? Yes. Unfortunately she couldn't go out for another 6 months as no vets were vaccinating new puppies.
She loves to roll around in muddy puddles and take over her parents' bed from first thing in the morning for as much of the day as possible. Hates the vacuum.
Odin
The mental one.
Odin joined us in 2021 after we realised that Harley wasn't quite strong enough to pull Rudi up Scottish mountains. He's a pure Siberian Husky and is Rudi's favourite.
We both wanted a Husky (they're the bestest dogs) but our houses weren't suitable at the time, that's why he wasn't first. That's a good thing though as Odin on his own would be even more work.
He loves to drag his parents around like he's competing in Iditarod and make a lot of noise. Doesn't really hate anything.
The peeps
Karolina
The smart one of the family.
Karolina's first step in IT when young was like most others, starting with HTML and CSS. She actually studied IT at university and was top of her class.
Previously Karolina's worked in a wide array of industries and brings a tonne of experience and perspective to what we're trying to achieve. She's passionate about doing business right, and genuinely delivering a meaningful impact to the world in her future.
Despite consciously choosing to move to the UK she's finally coming around to moving to a... more suitable location in the world.
Karolina loves Italy (mainly the food), long walks in nature and Forrest Gump. Strangely like Odin, she doesn't really hate anything.
Rudi
The one that failed IT and Business Studies.
Rudi started coding at 12, starting with PHP and VB6. A year later he received investment in his first business, £50 from the school he nearly got expelled from another year later for breaching network security.
Having seen/written/helped a tonne of bad software and bad businesses, he's passionate about doing things completely differently.
He really isn't shy about not wanting to live in the UK long term and really wants to escape.
Rudi loves KFC and cars (despite driving a PHEV). Hates spiders and Javascript.